April 15 : Closure
Both tragedies begun on the previous day - Abraham Lincoln's assassination
and the sinking of the Titanic - found closure this day.
On this day in 1865,
Abraham Lincoln
died from the wounds received on the
14th. After being shot at Ford's Theater,
he was taken across the street from the
theater to the Petersen House, where he
lay in a coma for nine hours before he
died. Several physicians attended Lincoln,
including U.S. Army Surgeon General Joseph
K. Barnes of the Army Medical Museum.
Using a probe, Barnes located some fragments
of Lincoln's skull and the ball lodged 6 inches
inside his brain. Lincoln never regained
consciousness and was officially pronounced
dead at 7:22 a.m. April 15, 1865 at the age
of 56 years old.
There is some disagreement among historians as to Secretary of War
Edwin M. Stanton
's (2nd from right) exact words after Lincoln died.
All agree he began
"Now he belongs to the..."
with some stating he said
"ages,"
while others believe he said "angels."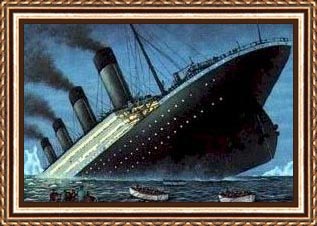 On this day in 1912, the Titanic finished sinking.
Some events during the Titanic disaster have had a legendary impact.
One of the most famous stories of the Titanic is of the band. On April 15,
Titanic's eight-member band, led by
Wallace Hartley
, had assembled
in the first class lounge in an effort to keep passengers calm and upbeat.
Later they would move on to the forward half of the boat deck. Band
members had played during Sunday worship services the previous
morning, and the band continued playing music even when it became
apparent the ship was going to sink.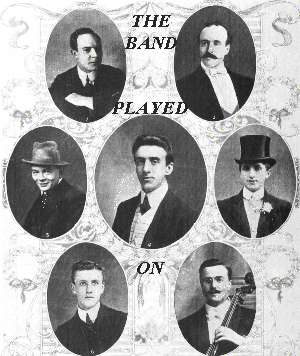 None of the band members survived the sinking,
and there has been much speculation about what
their last song was. Some witnesses said the final
song played was the hymn "Nearer, My God, to
Thee". However, there are three versions of this
song in existence and no one really knows which
version, if any, was played. Hartley reportedly said
to a friend if he was on a sinking ship
"Nearer,
My God, to Thee"
would be one of the songs he
would play.
Walter Lord's book
A Night to Remember
popularised wireless operator
Harold Bride's account that before the ship sank, he heard the song
"Autumn"
(a hymn similar to the former but contains the maritime line about "mighty
waters"). It is considered Bride either meant the hymn called
"Autumn"
or
"Songe d'Automne,"
a popular ragtime song of the time. Others claimed
they heard
"Roll out the Barrel."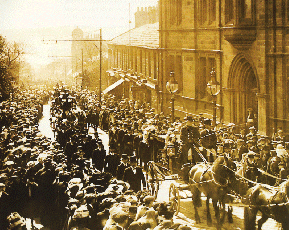 Hartley's body was one of those recovered and
identified. His funeral in England was attended
by thousands.
On this date in 1945, the
Bergen-Belsen
concentration camp was
liberated.
Born This Day:
1452 -
Leonardo di Vinci
.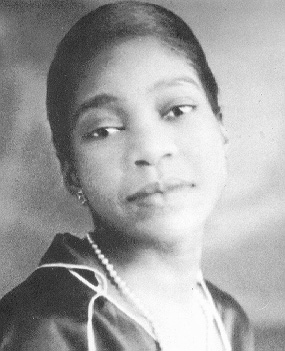 1894 - "Empress of the Blues"
Bessie Smith
http://youtu.be/8Who6fTHJ34
Died This Day:
1980 -
Jean-Paul Satre
http://youtu.be/l2KmnZSnqIs
1986 -
Jean Genet
http://youtu.be/wDN_TwTrFj8
1990 -
Greta Garbo
http://youtu.be/5r_gC-CcvYU
1998 -
Pol Pot
http://youtu.be/cUJrt6E6ki0
2001 -
Joey Ramone
http://youtu.be/lQeo3OfuEDM
2005 -
John Fred
, who sang:
Judy in disguise, well that's what you are
Lemonade pie with a brand new car
Cantaloupe eyes come to me tonight
Judy in disguise with glasses
Keep a-wearing your bracelets and your new rara
Cross your heart - yeh - with your living bra
Chimney sweep sparrow with guise
Judy in disguise with glasses
Come to me tonight, come to me tonight
Taking everything in sight
Except for the strings on my kite
Judy in disguise, hey that's what you are
Lemonade pies hey got your brand new car
Cantaloupe eyes come to me tonight
Judy in disguise with glasses
Come to me tonight, come to me tonight
Taking everything in sight
Except for the strings on my kite
Judy in disguise, well what you aiming for
A circus of horrors, yeah, well that's what you are
You made me a life of ashes
I guess I'll just take your glasses
http://youtu.be/TaWaQBxc0aI