April 30
Tonight is
Walpurgisnacht
in Central Europe and Scandinavia, a holiday
derived from Pagan spring customs, where the arrival of spring was celebrated
with bonfires at night. Viking fertility celebrations took place around February
25 and due to
St. Walburga
being declared a saint at that time of year,
her name became associated with the celebrations.
Walburga was honored in the same way that
Vikings had celebrated spring and as they spread
throughout Europe, the two dates became mixed
together and created the Walpurgis Night celebration.
Walpurgisnacht (or Hexennacht, meaning
Witches' Night
), the
night from April 30 to May 1, is allegedly the night when witches
hold a large celebration on the Brocken mountain, "hold revels with
their Gods..." and await the arrival of Spring. (Brocken is the highest
of the Harz Mountains of north central Germany.)
In some parts of northern coastal regions of Germany,
the custom of lighting huge Beltane fires is still kept
alive, to celebrate the coming of May, while most parts
of Germany have a derived Christianized custom around
Easter called "Easter fires".
In rural parts of southern Germany it is part of popular
youth culture to go out on Walburgisnacht to play pranks
on other people, like messing up someone's garden, hiding
things, or spraying messages on other people's property.
Sometimes these pranks go too far and may result in
serious willful damage to property or bodily injury.
Walpurgis Night is also celebrated in Sweden, Finland, and
several other countries. Most celebrations involve drinking,
bonfires, and in some cases, both.
Walpurgisnacht in culture: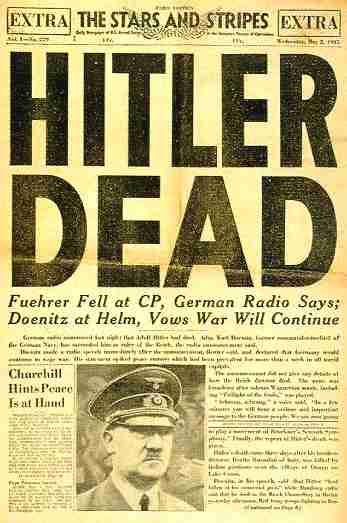 Adolf Hitler
, with several members of his staff (including
Joseph Goebbels), and his new bride Eva, committed suicide on
Walpurgisnacht, April 30/May 1, 1945. Some "researchers" suggest
that Hitler was deliberately offering himself to the forces of evil.
Anton Szandor LaVey
chose
Walpurgis Night in 1966 to
found the Church of Satan.
(I hope he wasn't wearing this
jacket at the time.)
A scene in
Goethe
's
Faust Part One
is called
"
Walpurgisnacht
", and one in
Faust Part Two
is called "
Classical Walpurgisnacht
".
http://youtu.be/7TCfNFckx6Q
The closing sequence of
Fantasia
(1940)
is intended to portray Walpurgisnacht and
not Halloween, as is popularly supposed.
http://youtu.be/nYSbxRiUgOo
The second act of
Edward Albee's
play
Who's Afraid of Virginia
Woolf?
is entitled "
Walpurgisnacht
."
http://youtu.be/nInE5TITzE8
The
Bram Stoker
short story
Dracula's Guest
takes
place on Walpurgisnacht: "
Walpurgis Night was when,
according to the belief of millions of people, the devil was
abroad – when the graves were opened and the dead came
forth and walked. When all evil things of earth and air and
water held revel."
In the 1931 film
Dracula
, a Romanian peasant describes
the night on which the film begins as Walpurgis Night.
http://youtu.be/i9qtivRryDM
The last chapter of book 5 of
Thomas Mann's
novel
The Magic Mountain
is
named "
Walpurgis Night
."
The
Illuminatus! Trilogy
by
Robert
Shea
and
Robert Anton Wilson
makes repeated references to Walpurgisnacht.
http://youtu.be/AOSXbr0IzjU
Born This Day:
1877 -
Alice B. Toklas
, companion
of Gertrude Stein. (The "B." stands for
"Babette", by the way).
1925 -
Johnny Horton
, whose biggest hits were all
of a historical nature:
The Battle of New Orleans, North
To Alaska,
and
Sink the Bismark
.
http://youtu.be/LsRK3DNoa_Q
Died This Day:
1900 - Legendary rairoad engineer
Casey
Jones
.
http://youtu.be/DVIXcMCg15c
1982 -
Lester Bangs
http://youtu.be/lOqo6scHOwc
1983 - The King of the Blues,
Muddy Waters
, born McKinley
Morganfield.
http://youtu.be/HgHQalqG6E8