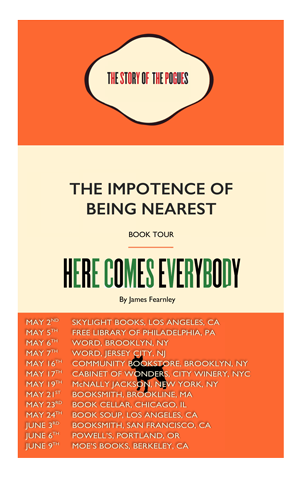 Heyo!
James is doing a book tour. "Why?" I hear you asking. Well, because
Here Comes Everybody
is being published in North America on May 1. You should go buy copies for each of your friends, family, and enemies too. If you're on the Left or the Right Coast (and also Chicago) you should totally go listen to him to a reading, answer questions, and sign a body part. Here's where and when!
May 2 - Skylight Books, Los Angeles, CA
May 5 - Free Library of Philadelphia, Philadelphia, PA (with Wesley Stace)
May 6 - Word, Brooklyn, NY (with musical accompaniment)
May 7 - Word, Jersey City, NJ (also with music)
May 16 - Community Bookstore, Brooklyn, NY (with MORE music)
May 17 - Cabinet of Wonders, City Winery, NYC (with Wesley Stace as host, plus Jean Hanff Korelitz, Walt Martin (of The Walkmen), Ian McLagen (of The Faces), Eugene Mirman, Paul Muldoon, Steven Page & Craig Northey, plus more TBA)
May 19 - McNally Jackson, New York, NY (with music, maybe)
May 21 - Booksmith, Brookline, MA
May 23 - Book Celler, Chicago, IL
May 24 - Book Soup, Los Angeles, CA
June 3 - Booksmith, San Francsico, CA
June 6 - Powell's, Portland, CA (with Colin Meloy)
June 9 - Moe's Books, Berkeley, CA
For those that like such things, a bigger printable poster can be had
here
.