Hot Press
, Nov. 5 '08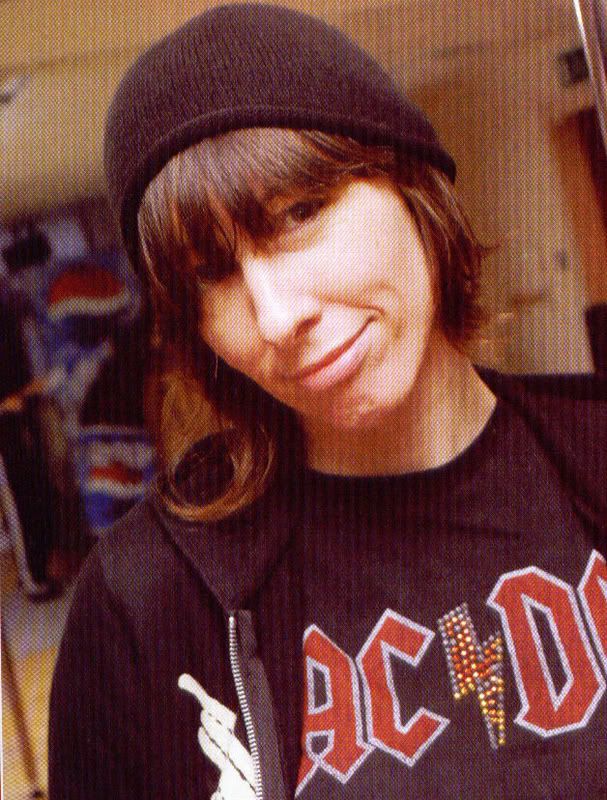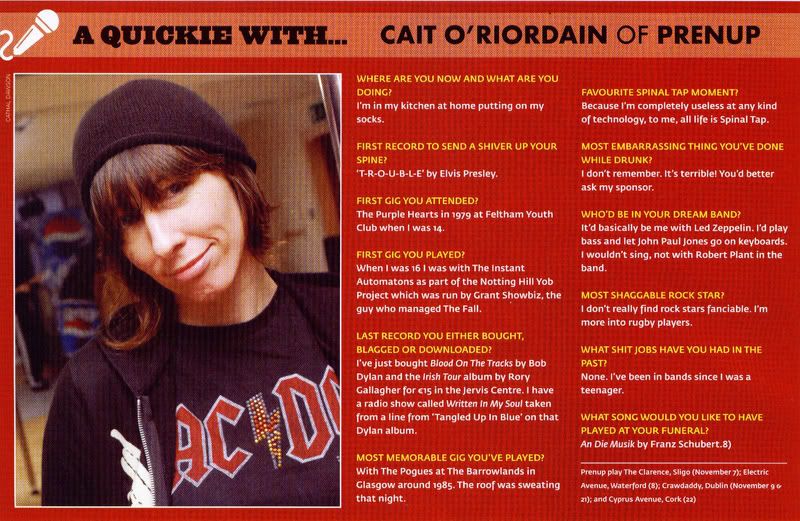 WHERE ARE YOU NOW AND WHAT ARE YOU DOING?
I'm in my kitchen at home putting on my socks.
FIRST RECORD TO SEND A SHIVER UP YOUR SPINE?
'T-R-O-U-B-L-E' by Elvis Presley.
FIRST GIG YOU ATTENDED?
The Purple Hearts
in 1979 at Feltham Youth Club when I was 14.
http://en.wikipedia.org/wiki/Purple_Hearts_(UK_band
)
FIRST GIG YOU PLAYED?
When I was 16 I was with The Instant Automatons as part of the Notting Hill Yob Project which was run by Grant Showbiz, the guy who managed The Fall.
http://www.instant-automatons.com/ia.asp
http://hyped2death.com/catalog/product_ ... ucts_id=88
http://www.zavvi.co.uk/productdetails.jsf?code=671631
(extract)
Of particular interest to Automatons obsessives is an early version of

"John's Vacuum Cleaner"

(subsequently re-recorded for Peter Paints His Fence). Joined on vocals by

Cait O'Riordan,

Lancaster struggles manfully through this tale of malfunctioning appliances, love, betrayal and suicide, with hilariously bad guitar accompaniment and a patently absurd metronomic drum machine bolstering the track's morbid charm.
LAST RECORD YOU EITHER BOUGHT, BLAGGED OR DOWNLOADED?
I've just bought
Blood On The Tracks
by
Bob Dylan
and the
Irish Tour
album by
Rory Gallagher
for €15 in the Jervis Centre.
I have a radio show (news to me - I'll check it out -J.F.) called Written In My Soul
taken from a line from 'Tangled Up In Blue' on that Dylan album.
MOST MEMORABLE GIG YOU'VE PLAYED?
With The Pogues at The Barrowlands in Glasgow around 1985 (Dec. 14 '85). The roof was sweating that night.
FAVOURITE SPINAL TAP MOMENT?
Because I'm completely useless at any kind of technology, to me. all life is Spinal Tap.
MOST EMBARRASSING THING YOU'VE DONE WHILE DRUNK?
I don't remember. It's terrible! You'd better ask my sponsor.
WHO'D BE IN YOUR DREAM BAND?
It'd basically be me with Led Zeppelin. I'd play bass and let John Paul Jones go on keyboards. I wouldn't sing, not with Robert Plant in the band.
MOST SHAGGABLE ROCK STAR?
I don't really find rock stars fanciable. I'm more into rugby players.
WHAT SHITJOBS HAVE YOU HAD IN THE PAST?
None. I've been in bands since I was a teenager.
WHAT SONG WOULD YOU LIKE TO HAVE PLAYED AT YOUR FUNERAL?
An Die Musik by Franz Schubert
( presumably "An die Musik", op. 88 No. 4, D. 547 (1817))

Prenup play The Clarence, Sligo (November 7); Electric Avenue, Waterford (8); Crawdaddy, Dublin (November 9 & 21); and Cyprus Avenue, Cork (22)