Last year some friends of mine and I went to Bergen, Norway
- about an eight hour car trip from Oslo, to see Shane MacGowan
and the Popes. We began drinking pretty early, since it's somewhat
irreligious to be sober at a Popes-gig.
They where scheduled to hit the stage at about 10 pm.
At around 11:30 pm, rumours were out that Shane had
missed his flight. I was expecting the worst. An eight hour
car trip followed by meaningless alcohol consumption
together with local, annoying alcoholics with a horrible dialect.
"Bergensere", people from Bergen, don't talk Norwegian you see,
but a nasty, ghastly version of inbred Norwegian.
Sort of like ghetto Scottish compared to rural Irish.

Here's one of Bergens inhabitants annyoing a friend of mine: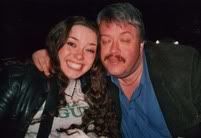 No, my friend is not the guy on the right.
The clock was well past midnight, when I heard,
through a veil of horrible dialects and drunk talk,
that Shane and company had managed to get on a plane
and was heading for the venue. Yes - finally!
Thankfully!
I had a reason not to throw the old fart into the harbour.
He had become more annoying at that point. Caressing poor
Julie, while slobbering bad romantic lines of gibberish.
In fucking "bergensk".
We left the drunk douche outside and went into the venue,
where we found some good spots right in front of the scene.
At about 1 AM, Shane stumbled up on the scene. With a silly
grin and a sarcastic comment to a guy in the audience who
shouted: I WAS A WILD ROVER TOO! Shane's reply:
What the fuck are ya doing here then?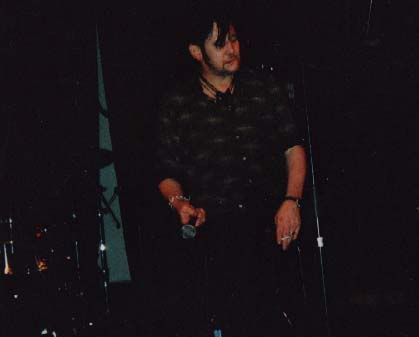 Allright! Let the show begin!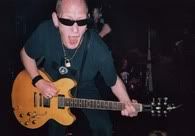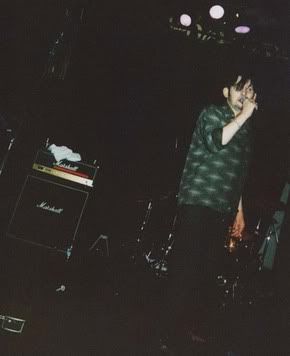 There were 5 of the Popes, including Shane, and you
could see that they weren't exactly taking this gig too
seriously. Most of them more drunk than drunk can be.
It wasn't the "tightest" gig either. Shane forgot most of his
lyrics and the sound was fucking awful! But it was FUN!
My expectations were low, so just seeing these guys in Norway
ruled big time! A lot of the audience didn't agree with me on
that one though. Many had left before they hit the stage, and
a lot of other morons left while the Popes were playing.
"They're a joke!"
After 6-7 songs I noticed that one of the security people
guarding the backstage entrance was doing a rather careless
job. So I thought to myself that I'd give it a go - sneaking
backstage that is. Maybe I could be so lucky to meet Shane -
I knew he usually had some breaks in the set, when the band
played instrumentals. I didn't have a problem getting past the guard.
Now I was right behind the stage, to the left of it. 3-4 meters
into the backstage-area a lady came up to me and asked if
I had a pass. Quickly and drunkenly (if that's a word) I replied:
Oh, sorry, I lost the pass infront of the stage, but Lena
[made up a name here] said it wasn't a problem.
"Ok! Cheers!" - she replied!
Haha! Thank you, Lena. Whoever you are.
From there I went up to the actual stage - behind the guitarplayer.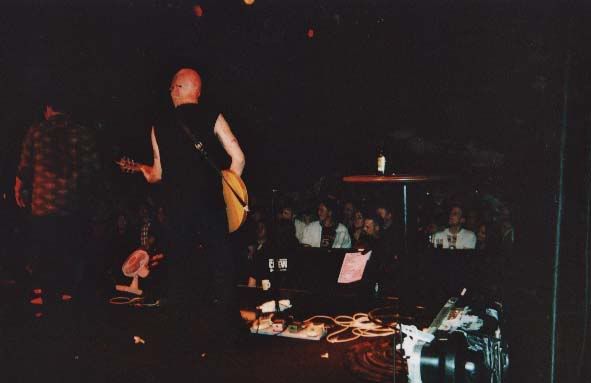 There I met one of The Popes' roadies. He was, not very surprisingly,
wasted! He gave me a beer and a cigarette. The concert experience
was getting better. When the roadie-guy wasn't drinking, he was
playing more drums than the drummer himself. Master of Cymbals!
He was also "helping" The Popes with backing vocals.
After a couple of more beers, he asked me if I could go backstage -
to their room - and fetch some more alcohol, soda and cigarettes.
I told him that I had snuck backstage and didn't have a pass.
He gave me his: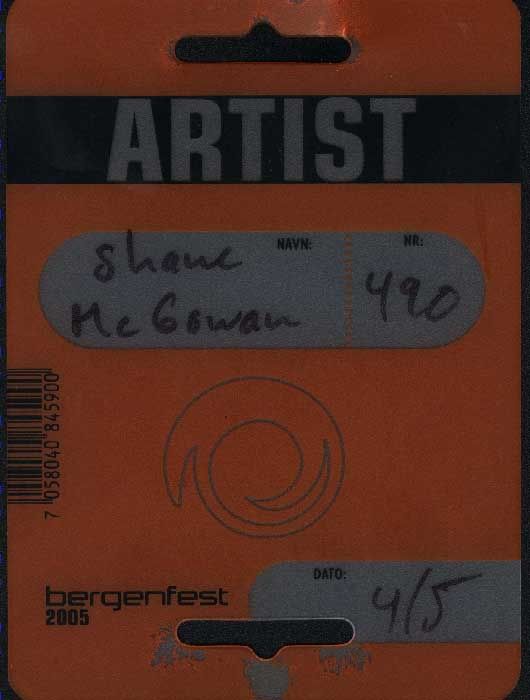 ...and I kept it!
I hurried to their room and picked up all the booze and
tobacco I could carry. Needless to say, he greeted me with a
huge smile and open arms upon my return.
On my way to the inner sanctum, a Norwegian security guard
tried to stop me - in a quite disrespectful manner -
almost as if I had weaseled myself in.

He was being a rude prick, so I said - Fuck off, I'm with Shane.
And showed him the pass. "Oh, sorry, Sir!"
Then came one of the highlights of my life. While I was drinking
with the roadie, I asked if I could come up on the stage with
him and sing on the chorus to Streams of Whiskey.
"No fuck'n problem!"
Both of us, now as drunk as a couple of drunken drunks, tried to time
the situation perfectly and run up to the guitarplayers mic right
when "I'm going (...)"-part starts. When we thought the chorus
started, we ran up to the mic - just in time to hear the song end!
Haha! If I hadn't been so plastered, I guess I would've been
somewhat embarrassed. He screamed "CHEERS, BERGEN".
And then we went back to our drinking spot.
However, I got another chance. He was very sorry we fucked
up the "perfect timing plan"! A couple of songs later,
I'm on the stage with Shane, "singing" the chorus for
Sally MacLennane. Allright!!!
Minutes later, Shane had his first break. He stumbled back to
the side of the stage I was on and sat down.
Slightly
exhausted and a
little
intoxicated.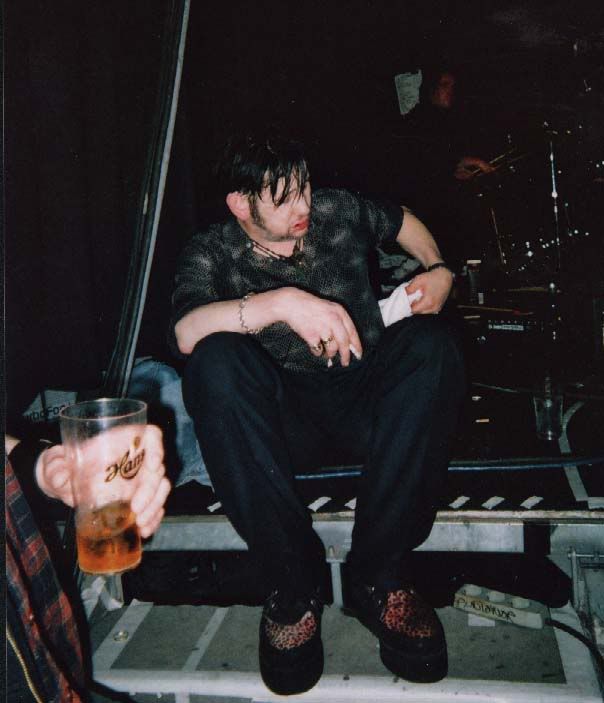 Now or never, I thought. What I've been wishing to do for
a long time. To have a drink with Shane MacGowan.
And maybe have a picture taken with him. To my dismay I
saw that I only had 3-4 pictures left on my camera. One of those
cheap ass, use-one-time cameras. And to my horror, I understood
that there were only one man for the photograhy job:
The roadie!
The second most drunk person in Norway.
First I asked Shane if he would like to be in a picture with me.
!Yeha, faehf efnfaeoNOfanffFUKKNafePROBLEM, aefaMATE!"
Allright! Then I asked the roadie, who didn't mind taking the picture.
First click: Towards the stage.
Second click: Towards the ceiling.
"Hey!" I yelled, somewhat nervous, I guess. "Please focus, and take a picture THIS way!"
Third click: At his own face.
"PLEEEASE, THERE'S ONLY ONE OR TWO PICTURES LEFT IN THE CAMERA!".
"No problem, matey!"
Fourth click - a success! Phew.
It was truly a great gig and most of all a memorable experience!
THANK YOU: Shane MacGowan and The Popes.
Adios, Bergen.
Back in Oslo.
I was a bit nervous that the backstage-place was a bit dark for
the crap-camera. Typical - once in a lifetime chance to be on a
picture with a music legend, and the camera fucks it up.
(Or the roadie!)
When I picked up the pictures from the gig, I saw to my relief,
that there's was no problems with the camera. I looked through the
pictures one by one, anxious to find the one with Shane and myself.
Finally. I found it. My jaw dropped to the floor: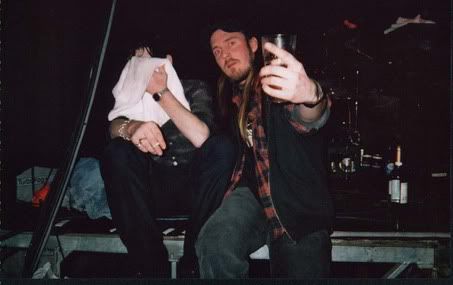 Thank you very much, Shane.