When The Radiators released their second album Ghostown, Niall Stokes of Hot Press was moved to pen "It's a monumental achievement in rock, possibly the most significant Irish rock album ever" while Dave McCullogh, writing in the now defunct Sounds pop paper, called it "Astonishing immaculate" In the late 1980s, Carol Clerk asserted in Melody Maker that Ghostown was "one of the most important and enduring LPs in my life... outrageously masterful stuff".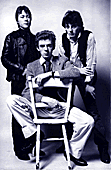 Cockles And Mussels presents the very best of the band, beginning in 1977 with their early punk sides as The Radiators From Space (their fast-version of Television Screen is one of the most blistering but cohesive of punk performances) through the critical glory years that followed up to 1980 and on to their final release Under Cleary's Clock (which came out as a 7" and 12" vinyl single in 1989 and became NME's Single Of The Week). Founder member Phil Chevron went on to fame with The Pogues.
Widely recognised as one of the most innovative and influential band's of Ireland's nascent rock scene in the 1970s, The Radiators presence can be felt in the work of such diverse performers as Gavin Friday, U2, Christy Moore and of course The Pogues, home for ten years to the Radiators mainman Philip Chevron. Remembering those heady days, he had this to say to Get On The Right Track :
"We took the time-honoured emigration trail in 1977, when Chiswick Records released our first album TV TUBE HEART", says Chevron today of their move from Dublin to London, "but found that our intentions were often misunder-stood. While we shared many of the characteristics of the UK punk bands - the energy and the attitudes - we had nothing to say about tower-blocks or anarchy."
"Our best songs came from our experience of growing up in an Ireland still paralysed by political and religious hypocrisies but which, we believed, was in its heart youthful and forward-thinking. We were the first Irish band to grapple with these contradictions but first and foremost we were a pop group and we could readily identify with the UK's 'No Fun' slogan."
The second Radiators album GHOSTOWN (1979) startlingly fulfiled the promise of their debut as producer Tony Visconti saw the scale of their musical and lyrical ambitions and helped them realise their "midnight walk through Dublin with the ghosts of the city's past", as Chevron describes it. But its steepling melodies and harmonies and panoramic arrangements set them even further apart from the New Wave mainstream and the band failed to make the commercial breakthrough. It is, in Ireland, still widely considered to be one of the greatest albums ever made.
All of GHOSTOWN, plus the best of TV TUBE HEART and a handful of stray singles, is included in this new 23-track CD compilation, released on 30th October. It has been compiled by Philip Chevron himself and he has personally supervised the digital mastering.
Today, in the light of the enormous and often painful changes now taking place in Irish society, and Irish rock's now established place in the music scene, it is a timely reminder that The Radiators were its first small voice of dissent.
©Chiswick; All rights reserved
---

---

Your intrepid maintainer is DzM.