Cait O'Riorden
Born: January 4, 1965 in Nigeria
Instruments: Bass, Vocals
---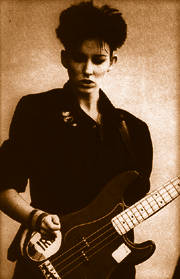 Cait's parents, originally from Ireland and Scotland, moved from Nigeria to London in 1967 when a civil war broke out. When Cait was 14 she heard The Nips' song Gabrielle on the radio and went to buy it from the shop Rocks Off Records. There she met The Nips singer Shane MacGowan, who worked behind the counter. In 1982 Shane asked her to join his band Pogue Mahone. They didn't have a bass player and she owned a bass guitar, and Shane was not overly conerned about her inability to play it.

In 1983 she became a singer in Darryl Hunt's band Pride Of The Cross. Darryl had originally planned to ask Wendy May of The Boothill Foot-Tappers to become the singer. When he told this to Cait, she laughed at him and said she ought to do it. At the audition the band told her that she couldn't sing, but on the other hand they couldn't play and they should get along just fine.

Pride Of The Cross performed mostly jazz standards and recorded the single Tommy's Blue Valentine, written by Phil Gaston as a tribute to Tom Waits. Unfortunately the band had to split up because The Pogues took too much of Cait's time.

Cait and Elvis Costello fell in love while he was producing "Rum, Sodomy And The Lash" in 1985 (and "Poguety In Motion EP" in 1986). They got married on the 17th of May 1986. She didn't show up for a couple of gigs on their 1986 US tour and Darryl filled in on bass for those dates. She finally left The Pogues because she was going to be with Elvis on his tour. Cait has co-written some songs with Elvis Costello for his albums. She also has a composition of her own called Broken on his 1991 album "Mighty Like A Rose".



---

Pride of the Cross

TOMMY'S BLUE VALENTINE
Tommy's Blue Valentine/Black Coffee
12" Big Beat NST 106 (1985)
---

---
Great wads of thanks go to Orjan Folcke for his invaluable help with these biographies.
Your intrepid maintainer is DzM.