"This time the cancer is lethal"
— Philip Chevron
Pogues and Radiators from Space guitarist Philip Chevron has revealed that the head & neck cancer for which he received treatment in 2007 and a clean bill of health in April 2012 has in fact returned. In August 2012, Chevron and his doctors noticed a new tumour and this one is in a position whereby treatment is seriously ill-advised and would almost certainly cause Stroke or worse. The cancer is, in short, inoperable and will prove fatal in time, though it is at present impossible to measure life expectancy.
Chevron, who was last year part of the releases The Pogues In Paris on Polydor and the Radiators' Sound City Beat on Chiswick, is currently taking a break from both bands. The Pogues are on a prolonged time out, emerging only in support of matters relating to their 30th anniversary this year, while the Radiators from Space have formed a splinter group, The Trouble Pilgrims, in which Chevron plays no part. In recent times Chevron has accepted several theatre music commissions, including the Old Vic Theatre in London and Galway's Druid Theatre.
Philip thanks his friends, colleagues, family and management team for their enduring support and hopes to make some notable musical contributions before, as he puts it, the cancer becomes "lethal".
Discussion is happening here.
— DzM
30:30
'30:30' is a 2-CD retrospective that commemorates The Pogues illustrious 30 year career; containing the Irish legend's biggest hits spanning 1984 to 1996. Included among the 30 tracks is the nation's favorite Christmas song and 1-million seller 'Fairytale of New York,' the top-10 single 'Irish Rover,' as well as the classic 'Whiskey in the Jar' and fan favorite 'Fiesta.'
Tracklist is here.
— Zuzana
All new The Very best of The Pogues out now!
The Shout Factory has teamed up with The Pogues to put together a fantastic single-disk collection. Compiled with input from the band The Very best of The Pogues features a comprehensive tour the band's greatest tracks spanning their entire recording career.
The disc is available starting Jan 22 from Amazon!
Discussion is happening here.
— DzM
The Pogues and Polydor/Universal France are excited to release a special edition celebration of the 30th Anniversary show in Paris' legendary Olympia Theatre. The release is available in multiple formats globally. Available formats are:
2 CD set featuring the entire concert
DVD (region free) featuring the entire concert, plus bonus performance of Thousands are Sailing in Manchester, 2004
Blu-Ray (region free) featuring the entire concert, plus bonus performance of Thousands are Sailing in Manchester, 2004
Limited Edition 3-LP vinyl (180 gms) with photo sleeve and liner notes
Limited Edition book featuring exclusive text and never before published photos, 2 CDs, DVD of the show, and a bonus DVD featuring two programs including interviews and live performances archived from French television including the cult favourite les Enfants du Rock (Children of Rock) from 1986
Amazon: FR, UK, DE, JP, CA, US
Note: Not all formats are currently listed on all stores. Keep checking if you don't see the one you want. Also note that import versions are available for Japan, USA, and Canada. It is planned that there will be non-import releases eventually available for these locations.

iTunes (Note: you may be prompted to switch to a different iTunes country/region)
New! Off.tv has released a five minute interview with Philip Chevron regarding the Pogues, punks, and enjoying your work.
Discussion is happening here.
— DzM
Miss the Last Wave from BISH
Miss the Last Wave, the third album by Darryl Hunt's band BISH, will be available from iTunes (and other fine digital emporiums) on April 8. It joins BISH's previous offerings BISH and Surrounded by Mountains. BISH's guitar driven pop will earn a promenant place and frequent plays in your music collection.
Discussion is happening here.
— DzM
Here Comes Everybody
James Fearnley has written an excellent memoir titled Here Comes Everybody - The Story of the Pogues published by Faber and Faber in May, 2012. You should go buy it right now.
You can follow latest news regarding James' book at jamesfearnley.com.
Discussion is here.
— Zuzana & DzM
Spider in Tremé
Spider is reprising his role as 'Slim Jim' Lynch in Season 3 of David Simon, Eric Overmyer & HBO's acclaimed series Tremé. Tim Robbins is in the director's seat for the most recent filming!
— DzM
Gone to Amerikay
DC Comics has launched a graphic novel which draws inspiration from a song by the Pogues.
Gone to Amerikay, written by Derek McCulloch and illustrated by Colleen Doran, was inspired by Thousands Are Sailing, Philip Chevron's ballad about generations of Irish emigrants travelling "across the western ocean to a land of opportunity".
"What I think Gone To Amerikay does well is set an interconnecting tale, a sort of ghost story, in three separate eras," said Chevron. "It's a fairly audacious undertaking and I'm delighted to have helped inspire or influence it."
Discussion is here.
— Zuzana
Shane MacGowan's guest appearances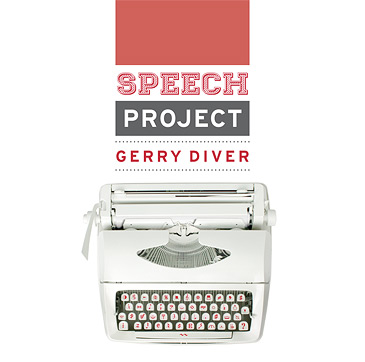 Shane's voice can be heard on Gerry Diver's Speech Project. For this album, Gerry Diver, an Irish musician and producer, has turned interviews (with Damien Dempsey, Christy Moore, Margaret Barry and others) into musical compositions. The release date is February 6, 2012, on One Fine Day Records. You can watch the video for Shane's contribution, Music for Tape Loop, at Youtube.
Discussion and setlist is here.
In 2011, Shane guested on the following projects: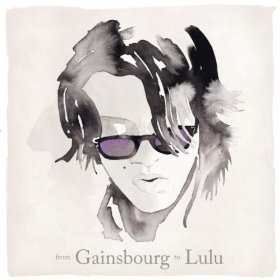 From Gainsbourg to Lulu: This album by Lulu Gainsbourg is a collection of cover-versions of the greatest hits by Lulu's father, the famous French chansonnier Serge Gainsbourg. Shane sings the song "Sous Le Soleil Exactement".
Discussion is here.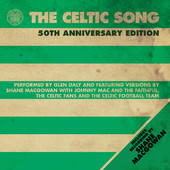 The Celtic Song - 50th Anniversary Edition: This is a four-track EP, celebrating the 50th birthday of Celtic Football Club's anthem "The Celtic Song". There are four versions of the song on the EP, including one sung by Shane.
Discussion is here.
For Shane's guest appearances in 2009 & 2010 look HERE.



— Zuzana
New track by James Fearnley
"Wistful. Full of regret. Contains the words 'crepuscule' and 'megrims'." That's how James Fearnley describes his new song, 'Hey Ho'. The song he wrote and recorded with John King of the Dustbrothers is available on iTunes and other digital outlets. The artwork is by Kim Howard.
Discussion is happening here.
— Zuzana
'Delicate Dancer' featuring Terry Woods
Lou McMahon, a singer/songwriter from Co. Clare, Ireland, has released an EP titled Delicate Dancer, which is produced by and features Terry Woods of The Pogues. The EP is available on iTunes and other sites. Lou and Terry are currently working on a second EP.
Discussion is here.
— Zuzana
Jem Finer's new projects
Jem Finer's art installation called Still is on display at Yorkshire Sculpture Park (West Bretton, Wakefield, West Yorkshire) until May 7. It is a giant screen projection of 18,000 images taken in a forest using a solar-powered camera and recorded through a specially designed computer programme. You can read more about this project as well as Jem's other art and his life with the Pogues in a Yorkshire Post interview.
Mobile Sinfonia, conceived and composed by Jem Finer, is an indeterminate musical composition scored for mobile phones. It is propagated through the free distribution of specially composed ringtones. Each ringtone is a 'voice' in the composition, and together they make a global orchestra of electronic instruments.
Discussion is happening here.
— Zuzana
Graphic adaptation of the Pogues classic
Roel Seidell, an illustrator from the Netherlands and a long-time Pogues fan, made a graphic adaptation of "The Turkish Song of the Damned" and kindly offered it to this website. You can enjoy his work HERE. Thanks, Roel!
Discussion is happening here.
— Zuzana
The Reunited Pogues Gig List
A list of all live shows the Pogues have played since getting back together in 2001, with links to forum discussions, media reviews, travelogues, photos and setlists.
If you want to refresh your memories of a particular show or wonder which places the reunited Pogues have visited look HERE.
— Zuzana & MacRua
Just Look Them Straight In The Eye ...
It's Box Set Time!
Just Look Them Straight In The Eye and Say... POGUEMAHONE!!
The Pogues have opened the hidden private vaults containing the archive of their recordings not previously released. The result? A five-disc box set titled "Just Look Them Straight in the Eye And Say... POGUEMAHONE!!" The compilation includes rarities, radio sessions, demos, movie incidental music and live recordings. Also inside are the legendary Murder, Donegal Express, Danny Boy, Travelling People, and Fairytale of New York demos, collaborations with Joe Strummer, Kirsty MacColl, Steve Earle and much more.
The complete track list with all 109 songs, all five discs is here.
Discussion is happening here.
— Zuzana & DzM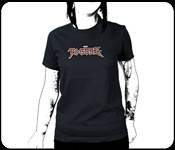 The Pogues have lots of things on the market to satisfy your Celtic Punk desires. Seven full-length CDs, remixed with extra tracks. Collections. A box-set with rarities. Books! Videos! T-Shirts, pint glasses, posters and much more.
But where to buy these things? There are many places, but if you buy from the Amazon links on this page then you help pay for this site. That's gotta be a good thing, right?
And there's a new store (in the USA too) with much of the recent show merchandise!
— DzM
Bloguemahone -
Dispatches from the road
James "The Maestro" Fearnley has been kind enough to document life on the road during the 2005 and 2006 shows. All installments starting with London, 2005 are available beginning with:
Sunday, July 17
Shane came into rehearsal 'professionally late', as he wittily put it, with that gnashing laugh he has, the first day of rehearsal. I think he'd had to be woken up, in his flat. He wasn't as sartorial as I' ve seen him of late, though he still has his brothel-creepers that I became familiar with coming across on the dressing room floor when we were on tour at Christmas, as he felt the need to air his rather curious-looking feet (and to air, with Joey, the top half of his body, at least one evening, where were we? Newcastle I think). He staggered in at four in the afternoon wearing a tophat that looked as though someone had attempted to contain a firework inside it. Continued...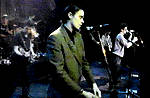 ---

---
Special thanks to The Pogues for their generous help.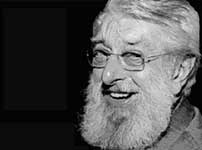 Ronnie Drew: 1934-2008